Tui Taonga 1-5 Penny Howard

Amber Esau is a NZ-born Samoan/Maori/Irish Poet studying under Robert Sullivan in the Creative Writing programme at M.I.T. She is from the village of Manase in Savaii, Samoa on her Fathers' side and of Nga Puhi and Kai Tahu descent as well as Galway Irish descent on her Mothers' side. She has been published in the Maori literary journal Ora Nui.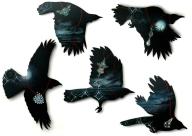 Sense

Thoughts stretched like powerlines

across the night sky. In a tide

of separation then togetherness

in vicious repetition             why

do some memories fade amongst

the sparkling constellations?

Minds may falter but bodies always

remember




;                                         
tingling goosebumps from the hands

of an Ocean wind

Mango juices spilling from hungry

lips tongues mouths fingers

the soft spoon after

a hard fuck

bodies remember