Anna Kaye Forsyth

New Zealand

crossed cultures - special issue

Anna Kaye Forsyth is a kiwi freelance writer and editor, specializing in education who moonlights as a poet and a musician in her copious spare time.  She put out a chap book of poetry called Wonder in 2006. 

The follow-up to this, Sometimes I Wonder, was released in 2007 Poetry Live in Auckland, where Anna is a regular reader.  She won the In Unison Poetry competition earlier this year.  

Her poetry features in the journals FourW, Magazine and Sidestream. 

Planting the Whenua Again

I sprawl out on the green

next to the obviously-new lovers

and the lunching professionals.

I make a starfish.

Yes in a public place!

I close my eyes and imagine

my body merging with the earth.

It's been ages

since I've felt at peace with this place.

I had reverse culture shock

getting off the plane from Oz.

It never left me really.

Even my native tongue

sounded foreign.

My own voice made me cringe.

I developed a talent for blending in

over there.

But I straddled the Tasman

with a foot in both camps.

Detesting both cultures equally.

It was like living in no-man's land really.

But now I'm back here,

my belly stirs

with a new hunger

for intimacy

with this whenua.

I want to converse with the ancestors.

Not just mine

but the ancestors

who walked on this land.

On this soil.

I want to steal their stories

and give myself a walk-on part

somewhere in the middle.

I want to plant the whenua again.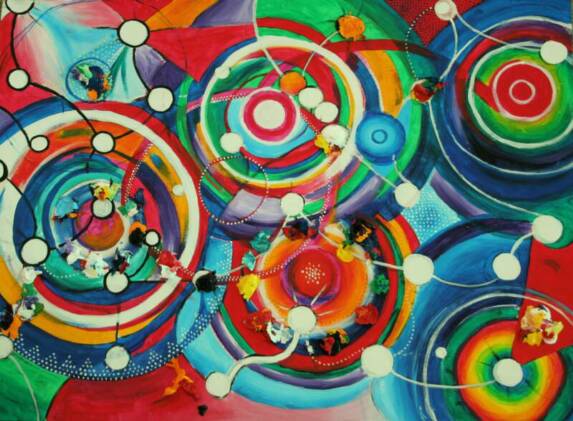 Featured Artist Fiona Holding