Albert Wendt

first published issue 29

The fecund people - Andy Leleisi'uao 2014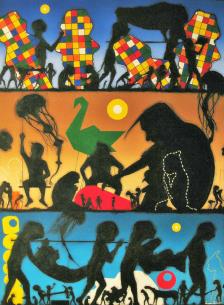 Albert Wendt CNZM is of the Aiga Sa-Tuaopepe of Lefaga, and the Aiga Sa-Patu of Vaiala, Samoa. Poet, novelist, short-story writer, playwright, he is currently a Professor of English specialising in New Zealand and Pacific Literatures and Creative Writing at the University of Auckland. He has been an influential figure in the developments that have shaped New Zealand and Pacific literature since the 1970s and was made Companion of the New Zealand Order of Merit in 2001 for his services to literature.

During his a distinguished academic career in Samoa, Fiji, and New Zealand, he has also found time to publish five novels, several collections of short stories and poetry, articles on Pacific writing and art and has edited various anthologies of Pacific writing.

His novels include: Sons for the Return Home, Pouliuli, Leaves of the Banyan Tree, winner of the 1980 Watties Book of the Year, and Ola, winner of the SE Asia and Pacific Section of the Commonwealth Book Prize 1991, and Mangoes Kiss .

His collections of poems include Inside Us the Dead, Shaman of Visions (AUP, 1984), Photographs (AUP) and The Book of the Black Star (AUP, 2002). He is one of 12 New Zealand poets featured reading from their published work on the audio CD Seeing Voices (AUP, 1999).

He has edited several anthologies, notably Nuanua: Pacific Writing in English Since 1980 (AUP, 1995), Whetu Moana: Contemporary Polynesian Poetry in English (AUP 2002), Mauri Ola: Conyemporary Polynesian Poems In English Whetu Moana 2 (AUP 2010) and his most recent novel The Adventures Of Vela (Huia publishers, 2009).

In Your Enigma


(for Reina)
You are dressed in your enigma

You shift like mist across words

that describe water

You plant signs

You invent yourself in syllables

of nightlight and winter turning

to spring on Maungawhau's shoulders

Every thing is

Every thing is earth the atua feed on

Every thing is earth moulded in Ruaumoko's belly

and thrown up to know

Tane's kiss of living air

Your ancestors left their shadows

for you to grow into

They fished islands and visions out

of tides that washed back into the Void

They dealt in imagery of bone and feather

They knew the alphabet of omens

and could cipher the silences

that once knew the speech of pain

They planted white pebbles in the mouths

of their dead and sailed them

into the eyes of the future

You are dressed in your enigma

that finds language in the gift

that is water

that is earth

that is every thing