Ben Kemp

first published issue 9

The fecund people - Andy Leleisi'uao 2014

I grew up in Manutuke, Gisborne and did most of my schooling between there and Wanganui. I attended university in Otago, where my interest in expression took hold (It was more of a need than I want) hence I began the search for my craft,

My deep love for Japanese for culture is rooted in its connection with Maori culture. My first experiences with Akira Kurosawa, Shohei Imamura and Yukio Mishima changed my whole perspective and it built on my Maori influences e.g. Rowley Habib, Brian Potiki and Hone Tuwhare. It was an awakening and I have explored the transitory place ever since.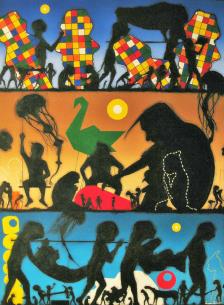 Koro to Mokopuna

(Grandfather to Grandson)

"Upon my knee, I feel like

I'm cradling a cherry blossom.child

.In the palm of my hand,"

(He turns his thoughts inside)

"Oh son."

"Deep in this valley, beyond the roads & electricity twists a river.

& Embedded in her muddy banks are Tohunga & great eels that bear photographs, diaries, carvings & moko's"

"I have travelled light through the contours of my flesh,

With Tui's at my back that sing when I've felt lost."

(Sigh)

"Here are my birds.child (holding out his hand),

Their songs, my eyes, feet and stomach.

& here take my shoes, too"

(removing his shoes)

"They are your's now,"

"In return.

All that I ask is that you find

& Cupped hands you drink from the stream."