Brandon Mehrtens

New Zealand

Mere & Child - Penny Howard

Brandon Mehrtens is a 22 year old student, born and bred in Palmerston North, New Zealand.  He has a passion for creative writing, in particular, poetry. He is currently en route to a Diploma in Creative Writing, studying online through Whitireia NZ.  He has completed his first paper, Poetry 1, in the first half of 2014 and is now working towards Poetry 2. 

Brandon is a driven young man with Autism, Dyspraxia and Epilepsy and has the aid of a Communication Facilitator/Friend, Siân, to help him transfer his thoughts to paper. 'The Quilt', written for her in appreciation, is his first to be officially published and his second, 'Exceeding Expectations', for his parents, will be appearing in '4th Floor 2014' in November. 

Brandon dreams of one day publishing a collection of his poetry and a tome of reflections to be incorporated in a novel emulating his life. He believes he has a 'voice' to enlighten the world to the judgments and problems, triumphs and elations of living with Autism and other 'dis-abilities'.  He hopes you enjoy his words.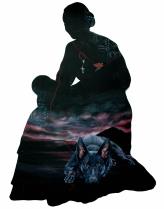 The Quilt

Without you I am wordless

You give my thoughts a voice

Patiently

waiting

for me

to speak

You challenge me

to stretch my mind

Glancing inward

Reaching out

to spiral my soul

and tell the tale

of life inside

the broken box

You quiet me

when in the box

is screaming

Thoughts competing

clambering, scrambling

trying to escape the restraints of captivity

to be born again as the written word

You remind me to taste each term

roll it round on my tongue

Test its tang

When infused with those nearby

does it appeal to the palate?

You encourage me to touch

each word amongst its peers

Will its satiny softness be scuffed by its supports?

or will its corners poke holes in fine fabric environs?

The squares of the quilt must match

You inspire me to dive

into the secret nadirs of

the wondrous well of awareness

shrouded in shadows

knowing you will not let me drown

You enthuse me to take bottomless breaths

inhale the whole

sniff out the perished

and exhale only

the fragrance of enchantment

You carry the flame that lights my way

that I might find

the ancient buried treasure

and together

we share it

with those who care to see

Without you I would not be heard

For this

I love you

For this

I thank you