Charmaine Thomson

New Zealand

Tui Taonga 1-5 Penny Howard

Charmaine Thomson lives in Wellington, New Zealand. Charmaine studied performance music and teaching in the past. She has been published in a range of New Zealand and American publications including the 4th Floor Literary Journal, A Fine Line, The Shot Glass Journal, The Blackmail Press and the Fib Review.  Charmaine is interested in exploring the connections between instrumental composition, Neo Latin languages and performance.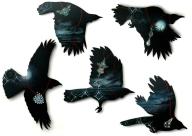 Acquittal

It was safer inside

He loved her within the fences

She stayed small like parcels

left at the front door

He played the decades

as endless drones

on the lawnmower

to keep away the weeds

The house was kept

folded and tidy

so she needn't worry

about going.

Indecipherable music

He invests in pain  

risking his body for breaks

Holding heads in knotted cords

until the necks untie

Unfolding and leaning

he remembers  

This untelling of bones

is an indecipherable music  

No blunt traces

He threw her crockery out

ejecting her goods

and erasing all remnants

of their jointed home.

Her face caught the punch

but not her shoes

or the spoils

agreed by the court.

His house stands immaculate,

a well appointed garden

with a bleached roof

and no blunt traces.