The fecund people - Andy Leleisi'uao 2014

Brief Biography:

Andy Leleisi'uao is an Auckland-born based artist. In the 1990s his work has traversed the diasporic consequences and frustrations of being a first generation Aotearoa-New Zealand born Samoan within his community.

Avoiding traditional Pacific Island and tapa cloth imagery he created his own iconography to explore his concerns and dreams. In a mid-career shift during the early 2000s Leleisi'uao's work transcended towards more universal themes with alofa as the continuing link throughout his work.

Links:

Note about cover image:

The Fecund People, acrylic on canvas, 2014.

I'm trying to understand a particular visual language. It puzzles me, with a mixture of colour, shapes and figures. The more invested I am, the more meaningful and fun this visual language becomes. It's weird, community oriented, peaceful, inquisitive, ambiguous, busy and disorientating amongst other things but The Fecund People exist because I believe in it.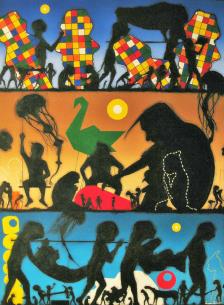 Click on thumbnail to view full size image