crossed cultures - special issue

Gus Simonovic has lived in different places and spoken other languages.

He currently resides in Auckland, writes and performs his poetry in broken English.

Main influences : Tagore, Rumi, Neruda, Miljkovic.

Equator

If the words are the stars

Poems are constellations.

You need to know the figure

To shape out meanings.

And wherever you move

every nightsky speaks

a different language.

I crossed the line -

and left my northern stars

at that invisible border. 

They were confiscated by

equatorial customs office.

But I smuggled my poems with me

so I can still speak to you.

I exchanged my Little Dipper

for Magellanic clouds.

Instead of Polaris

Sigma Octanis brightens my horizon

And I reach up high and I dig down deep

as every plant that has been

pulled out by its roots.

Lucky to have Leo and Orion

To help me bear my Southern Cross.

H to gO2

(Serbian version)

Kap vode

Jedna kap

koja nas deli

ili spaja?

Kap vode

Ogromna kao okean

Neophodna kao pupcana vrpca

Ti, daleka kao Indija

Bliza kao sijamski

U jednoj kapi

koliko suza

toliko radosti

Samo jedna kap

kako da plivas?

Mrdnemo li se naglo

Razidjose se kontinenti

Nastase planete

Ostanemo li predugo ovako

podavicemo se

I plovimo

Plovimo u zamisljenom brodu i zamisljenom pravcu

I plovimo

pomeramo jedra

Cekamo povoljan vetar

Jedna kap!

A toliko mokri

Nekad samo vlazni

Nekad kao poprskani

Nekad malo pokisli

Ponekad skroz okupani

Nekad popisani

Nikad suvi

Na jednoj kapi - dva pola

plus i minus

muski i zenski

severni i juzni

i struje, virovi, sezone, sante leda i monsunske kise

I ne treba nam

ni vazduh

ni zemlja

ni vatra

samo kap vode i ljubav

Kao dvocelijski organizam u rastvoru ljubavi

Jedna kap !

Kao medium za osmozu

Neophodan za simbiozu

Jedna kap vode dovoljna za zivot !

I sta je u kosmosu jedna kap vode

I stacemi kosmos bez nje?

I neka je malo hladno

Samo da ne ispari.

Ovde - Here

Zastao sam ovde,

na putu doma.

Zastao …

zastao tamo gde svako mora.

Odseo sam ovde

Odseo sam ovde u kuci

U kuci na pola brda

Kuci sa bezbojnom ogradom

zatvorenoj kuci sa vratima i prozorima od necujnog stakla,

U sobi zvuk,

zamisljeni zvuk vodopada.

U dvoristu nema jabuke,

Samo sljiva, loza, dud, bagrem i orah.

Znam!

Ovde je seme posejano,

bas tu, dole kod vodenice.

Ovde, ovde se reka racva

I ribe zmure dok spavaju.

Ovde su i kolevka i zastava i baklja

Ovde je sablja iskovana i vaga izvagana.

Ovde ikone govore a svaki je razgovor molitva

i svako drvo, drvo zivota, a svo bilje lekovito.

Ovde svako ne moze a odavde svi putevi vode.

Ovde rosa nikad ne ispari,

zalasci su brzi i kratki a dani spori i dugi

Ovde sunce vremena nema za romantiku

a mesec je uvek pun, mudrosti.

Budan!

Jutros,

Ovde.

cuo sam tvoj glas

I slusao slusao slusao …

I nisam te mogao prepoznati.

H to gO2

(translated)

A drop of water

One drop

That separates us

Or connects us?

A drop of water,

Huge as an ocean,

Unnecessary as an umbilical cord.

You, as far away as India,

As close as a Siamese twin.

In one drop,

As many teardrops

As there are joys

Only one drop.

How can we swim?

If we move too fast

Continents will divide,

Planets will vanish.

If we stay still

We will drown.

And we float

In an imaginary boat in an imaginary direction.

And we float,

Adjusting the sails

Waiting for a favourable wind.

One drop.

And we are so wet!

Sometimes only splashed

Sometimes only sprinkled

Sometimes rained on

Sometimes washed

Sometimes drenched

Sometimes dry.

On that one drop – two poles:

Plus and minus

Masculine and feminine

North and south.

And currents, whirlpools, seasons, icebergs and   monsoons.

And we don't need

Air

Or earth

Or fire

Only that one drop … and love.

Like a two-cell organism in a solution of love

One drop!

Like a medium of osmosis

necessary for symbiosis.

One drop - enough for life!

And what is one drop of water

in this universe?

And what is this universe without that one drop?

I don't mind if it's a bit cold,

So long as it doesn't evaporate.

Ovde - Here

I stopped here

on my way home.

I stopped,

stopped here

as everyone must.

I lodged here,

lodged here in a house.

In a house half way up a hill

a house with a fence of no colour

a closed house with doors and windows of noiseless glass.

In the room a sound

the imaginary sound of a waterfall.

In the garden

there is no apple tree,

only vines and plum, mulberry, bagrem and walnut trees.

Here is where a seed was planted

right there, next to the mill.

Here, here the river divides

and fish close their eyes when they sleep.

Here are the cradle, the flag and the torch,

here the sword was forged and

the scales of justice calibrated.

Here icons speak

and every discourse is a prayer,

every tree is a tree of life

and every plant a healing herb.

Here not everyone can come,

but from here all paths diverge.

Here dew never evaporates,

sunsets are fast and short and days are slow and long.

Here the sun has no time for romantics

and the moon is always full

of wisdom.

This morning

here

I heard your voice

and listened

listened,

listened

and I couldn't recognise you.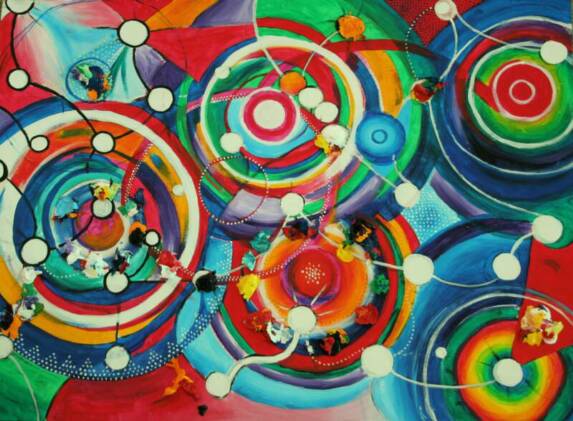 Featured Artist Fiona Holding