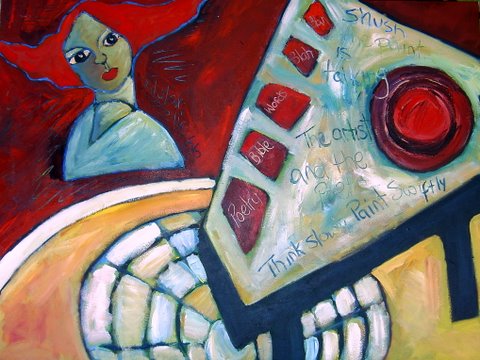 Jill Chan was born in Manila, Philippines.  She migrated to New Zealand when

she was 21. Her first book, The Smell of Oranges

Seacliff Art Workshop in 2003. Her poems have been published in New Zealand

magazines Poetry New Zealand, JAAM, Brief, Bravado, Trout, Southern Ocean

Review, Spin, Takahe, and some other magazines.

Her second book, Becoming Someone Who Isn't

Earl of Seacliff in July 2007.

The Night

I know you would disappear from me

singing that song

only the weak can hear. 

Leave the night.

How it makes me lean closer. 

Leave the night to its dark,

then disappear.  

Walking Beside Lampposts

I climb up

these steps

thinking of where

I fail to follow.

The second I move

out of sight,

you come into view.


Is it like this,

the way love leads to

some place nearer,

some deeper delight

yet hidden from us?

These lights

turn on the beauty

that's already here

that makes us reach to it.

I Might Be Here

The days are longer when you don't think about coming or going. When you're

listening to time passing and what silence means it to be.

Later, I will think about what I'll do.

There's another height to fall from, another changing season to take inside. 

Passage

I watch sunlight

travel across the floor

stretching

into endless arrivals

I grow into loving

time itself

Let it pass

Let it still be here

Real

You don't come home anymore.

All your days are houses

that don't need building. 

You use your hands

to hold the things

that don't let go

before you do:

water taps, newspapers,

food you unwillingly eat

just to feed those who love you,

who remember for you

the necessary lives,

the mornings that repeat their erasures;

memory folding its glances.

Now is the time

to be utterly useless,

to let all but the real

fall away from us.