Jenny Powell-Chalmers

New Zealand

Jenny Powell-Chalmers is the author of three books of poetry, Sweet Banana Wax Peppers and Hats (both HeadworX, 1998 and 2000 respectively) and Double Jointed (Inkweed, 2004). She is currently working as an arts co-ordinator in a Dunedin High School. She has edited a special NZ issue of the Sydney Poets Union newsletter Five Bells and has appeared in many anthologies and journals, including Another 100 Poems for Children, Sport, Poetry NZ, JAAM and Takahe, and has appeared at many literary events nationally and at the Subverse: Queensland Poetry Festival in 2001. Two new collections of her poetry have just been published: Four French Horns (HeadworX, 2004) and Locating the Madonna (Seraph Press, 2004), a collaborative work with Anna Jackson.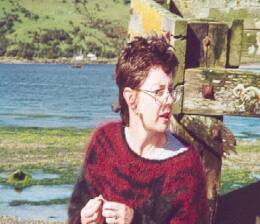 A Slow Fax to China

Her shadow stoops

with the ache of age

her shuffle is in the slow

time of bound feet.

She is bound for Silk

Road; the crossing of East

and West.

Her tree root hands

hold the rice paper scroll,

fingers light as leaves

curl into the calligraphy

of every character.

Her feet stop.

She can hear her name

in the fragrant air

of a lotus blossom.

She can hear her name

In a new cycle

of radiance, the scroll

settles on the road

into ancient secrets

of silk threads.

Diego Rivera Paints the Madonna of the Mirrors

In the mirror

she is mirrored

                 white Madonna

                 of the Grecian gown

                white Madonna

                of the San Angel Inn

On the canvas

her mirror face

is mirrored

              in the gold of gods

             her face turns

            from his gaze

She is his mirror,

He, her reflection.

The Sworn Affadavit

What if

God  was wrong?

What if

the book I solemnly swore

on was a myth?

What if

Adam met Eve

at a bus stop?

What if

it was snowing

and they both wore

thermal underclothes?

What if

Jesus didn't walk on water

but skated

on a frozen lake?

What if

the crowd was hungry

after their fish

and bread?

What if

Lazarus had only

fainted?

What if

they don't believe

the truth I told?

Under the Blue Jacaranda Tree

Under the blue jacaranda

scented memories gather

in a garland of blossoms,

how still you are.

Your breath is singing

in a lost lullaby,

sighing in slow whispers

of wonder,

you hold the horizon of hope

in your hands.

What happened to you?

Once it is done,

there is no return ticket,

no tracks to follow

back to this world

but the demon doors

will be slammed shut.

There will just be

a sweet breath

whispering your lullaby,

under the blue

jacaranda tree.