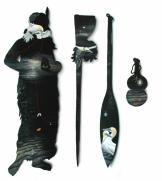 Taipari O Maraea - Penny Howard

I have had two poems published in The Christchurch Press. a sonnet titled 'Tightrope Walker' and more recently 'Sternpost' about post-earthquake Shag Rock. I won the Catalyst Flash Fiction competition in 2012 with a story entitled 'A Walk in the Rain.' I am currently in my second year as a student in the Hagley Writers' Institute. My major work is a young adult novel called 'Sound Reason'. Watch this space.

Grace

Grace 

sticks a thin straw between her teeth, shoves

hands into pockets as deep as muddy puddles,

follows the windy farm track,

leaps from one large footprint to the next.

Poppa

twists wire with gnarled fingers, his

steely eyes stare down the sheep dog.

Grace

mimics her grandpa's limp,

mirrors his mop of wild curls,

those hazel eyes.

Poppa lobs hay bales

as high as a southerly gale,

stores his dreams in a water tank

worries Grace will thaw his icy heart.

Kept Inside

for years he lifted

heavy objects, carried

his child's future

loose-fit clothes

that are not his

centre-pressed, clean

slipper on one foot

a shoe on the other

feet without socks

unkempt, his comb

sits on the bedside

dresser

his physical frame

structures an internal struggle.

Nothing Wasted

He mirrors the colour

in his grandson's eyes,

is that certain memory

of a summer picnic.

He captures a nod and

wink in the gilt edged

photo frame.

His familiar sayings

written in the dust

on Nana's piano.