blackmail press 30 Bipolarisation

Laura Dalton

United States Of America/ New Zealand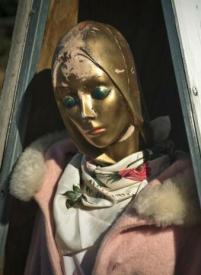 Laura Dalton hails from Connecticut, USA. She studied English and creative writing at university and has put her degree to use by travelling to New Zealand to have fun. Laura is a new resident of Wanaka and already adores the inspirational scenery and the wonderfully welcoming community. She has written a collection of short stories, nonfiction pieces, poems and plays that can be found in a lot of random places.

Old Strawberry

There was an old man who lived in a very old log cabin, hidden in a very, very old patch of field and forest. Five oil lamps and a cellar filled with strawberry jam were his only possessions of worth and his sole companions. This old man had spent his younger decades collecting pails of wild strawberries from the fields near his cabin, searching for the recipe for perfect strawberry jam. There was something not quite right with every jar he made, mostly because the man needed a reason for another sweet, sunny afternoon in the strawberry fields. And every evening, once his pails were full, he would line them up on the edge of the field and sit down beside them to watch the always perfect, red sunset. Then the man would retreat back inside his cabin, light his oil lanterns and stir up a jam. He would dip his finger in, taste, shake his head once and jar it for the cellar. After years and shelves of jars, the sun blisters came on the old man's skin and he knew he was starting to die in a different way than he had been before. Old, scarred, scared he drew his curtains and shut his door. Years later, on a particularly dark, cold night the old man realized that he forgot what a sunset looked like. A good layer of snow had come to the ground, so the man took his five oil lanterns, opened his door and lined the lanterns on the edge of the field by his cabin. The old man then carried outside every last jar of strawberry jam from his cellar. One by one, he pried off the tin lids, and with his wrinkled fingers, scooped the jam out and smeared it onto the snowy field. When the last jar was empty, the man stood with a matchbook beside his row of lanterns. He lit the first. A soft, pink glow shimmered at his feet as the light touched the jam painted snow. He lit the second lantern. And the third. A dazzling arc smoldered further and further, with bursts of crimson and coral, ruby, and sparks of daffodil. He lit the fourth for waves of salmon, nectarine and scarlet that blazed into the sky and illuminated the forest shadows. Gingerly, the old man knelt down in the snow beside his fifth oil lantern. A good moment passed. Then he struck his last match and held it to the lantern. The old man let out a sigh, a sigh that he had been keeping since he filled his first pail all those decades ago. It was the perfect, strawberry jam sunset. 

Harmonica

I want to learn how to play the harmonica. I want to play the harmonica on an airplane when all of the other passengers are asleep. I want to make all of the sleeping passengers on an airplane have a dream, from which they will awake and call up an old friend or lover. I want to watch a woman with long, braided hair slip a quarter into a payphone, dial a familiar number and I want to hear her say, "Hey baby, it's me. Do you still have brown eyes?" I want to know that there is a man on the other end of a phone call, talking with a woman that he hasn't spoken to in nearly twenty-three years. I want to imagine a man hanging up the phone after a few minutes of good conversation, and then exhaling until he has enough air to build a guitar out of. I want to hear a man play the best air guitar solo that has ever been played. Then I want a woman with long braids to take a taxi to her favorite piece of forest. I want her to stand in the trees and smoke a fat joint of altitude, and go to a high place. I want a brown-eyed man to take out his map book and follow that old, familiar path. I want him to rip out the pages and toss them on the ground as he goes. I want him to blaze a paper trail. I want a brown-eyed man and a braided haired woman to meet on a mountain. I want the sun to set perfectly perpendicular to their faces. I want each of them to stand tall and raise their arms out straight. I want perfect shadows to fall behind them. I want a man to think that his shadow looks like a cross and I want a woman to think that her shadow looks like a telephone pole. I want them to laugh when they realize that they are both right, because a cross and a telephone pole both hold up the transmission of important messages. I want them to lie in the dirt and reminisce about the days when they would snort lines of poetry together. I want a brown-eyed man and a woman with long, braided hair to fall asleep side by side and sleep like they haven't slept in twenty-three years. But mostly, above all else, I want to learn how to play the harmonica.