Linley Edmeades

New Zealand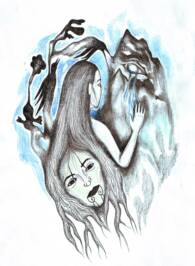 In Your Enigma - Ilinca Höpfner

I live in the little community of Te Kowhai, Waikato. I write poetry in between working as a physiotherapist, growing herbs and enjoying my children and grand children.

Lichen

Tiny red caps

On grey green stalks

Small enough

To be missed

Silent, vital.

Bright enough

To be noticed.

If interviewed

For breaking news.

"What can you tell us

About the current situation

Facing the earth right now?"

"Now you see us,

Now you don't.

We die

Before you all die."

Arctic Lament

The bears are dying

And they don't know why

And I cry

To think

That they don't know

Why, when we pour

The leftovers of our vast lives

Into, out, over

Seeping, Soaking, floating

Lying,

Killing the bears.

Sun Bear

Look at the bear.

Big tree climbing

Sun bear; sleek

Brownish, bold

Eating fruit in high branches

Climbing with claws unsheathed.

Sun, one- up- a trunk

Bear; bark catching on fur

Firm and smooth. Small

Bright beads of eyes

Leading, needing to

See, seek berries,

Buds.

Be careful bear

Beware, the human hand holding

Heavy, helpful gear.

Grand insatiable interest

In you, bear.

Barely there.