Mua Strickson Pua

New Zealand

Mua Strickson-Pua Aotearoa born Samoan Chinese ancestoral villages of Malaela Upolu and PapaSataua Savaii. Canton China. Aiga/whanau Purcell, Pua, and Laiman.

Co founder of STREET POETS BLACK 1982 Maori & Pacific Islands street theatre telling our stories. Formerly based in Palmerston North. North island "Polynesian Time" tour of 86.

Pioneer of P.A.T.H. Pasifika Art & Therapy for Healing programme at Tagata Pasifika Resources & Development Trust working with at risk youth, damaged families, and Pacific nations communities. 1995-2005.

Producer of CAFE SPACIFIC venue to Pasifika Hip Hop and Poetry 1996-2002 Karangahape Rd the only Pacific Hip Hop & poetry venue promoting Pacific artists for the community telling our stories. Hosted by Pasifika Poets Collective.

Community Arts Curator Tagata Pasifika Space Karangahape Road 1996-2005.An opportunity for students and family members to tell their personal stories through their individual or group exhibitions. Aiga/whanau exhibitions are welcomed.

Producer of Samoa House Pasifika Hip Hop & Poetry venue 2003-2005

Hosted by Pasifika Poets Collective.

Radio projects:

Koori Radio Sydney fortnightly 10 minute slot 2004-2005

Niu FM Breakfast Show Gig guide fortnightly 2003-2005

Reo Atumotu 1593 Breakfast host, Sports, & Youth programme producer 1994-1998.

Otago FM Student radio Pacific weekly hour show DJ & Producer 1987-1989.

I Have always incorporated poetry & Pasifika Poets Collective for readings and performances.

I am a performance poet, exhibited artist via Lavalava Arts, Story teller, Comedian, Free style rapper/MC, and Community Arts Curator.

My Kaupapa is telling my Pacific stories via Pasifika Hip Hop, Arts, & Poetry. Empowering, Educating, and Entertaining.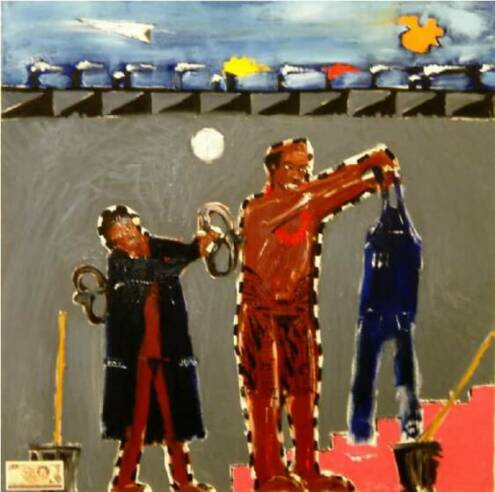 Enigmatic blue on a weekly basis - Andy Leleisi'uao

TAMAKI MAKAURAU

KARANGAHAPE ROAD

I

have seen you

10am

outside that pub

where

washed out alcoholics

parade

their tragic lives publicly

and

teenagers mock your presence

yet

society will remain nameless.

QUEEN STREET

You

took millions of dollars

from

people who wanted investment

for

their futures now denied

shattered

they have nothing bankrupted

while

you hide in prosperity

yet

society shall remain nameless.

SYMOND STREET

St Pauls

faith long forgotten here

where

colonial times transported beliefs

question

the here and now

yet

with out the spiritual

hope

humanity is Alofa lost

yet

society shall remain nameless.

PONSONBY ROAD

A

Maori street kid girl

hungry

on Auckland's diners mile

where

rich fat cats oblivious

to

her world and reality

talk

cheaply of good times

yet

society shall remain nameless…