spirits of the forest  Vanya Taule'alo

I'm a 20 year old poet from Calcutta, India. I am in my final year of English at the University of Calcutta, and I study French under the Ramakrishna Mission Institute of Culture. I've been published by other magazines, webzines and newspapers before, including Femficatio and Voices.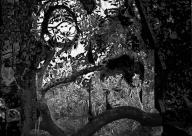 The recent gangrape of a 23 year old woman in the capital city of India, which has set the entire nation on fire, is what triggered this creation of mine. In this poem, the violated women are metaphorically compared to a bunch of discarded mistletoe. The rapists, who are compared to the 'lacerating shards', also represent the patriarchal mindset. It's an angry poem. - Nikita Parik

Mistletoe

The very last bunch of fresh mistletoe

Bled in a corner of the Everyman Avenue;

Tarnished of its jungle beauty,

Like blossoming youth untimely screwed.

"How strong now, bleeding flower" hissed the lacerating shards agore.

"Strong enough to extirpate the genus named you"