Okusitino Mahina

Tonga/ New Zealand

crossed cultures - special issue

`Okusitino lectures in Pacific political economy and Pacific arts. His research interests include inter-alia, time and space, culture and history, philosophy and inquiry, education and research, development and governance, modernisation and globalisation, art and literature and transcultural aesthetics and psychology. `Okusitino has published extensively on a range of interdisciplinary topics, including poetry in Tongan, as book chapters and journal articles, and authored, co-authored and co-edited several books.

`Okusitino, with a group of Tongan scholars in and outside of the University, has carried out a number of major research projects in the past two years. One of these projects led to the publication of a book in the Tongan language, entitled Ko e Ngaahi `Ata mei he Hisitolia mo e Kalatua`a Tonga: Ke Tufunga`i ha Lea Tonga Fakaako, co-authored with Tavita Ka`ili and his sister, `Anapesi Ka`ili, who are Tongan PhD scholars in the US.

`Okusitino is regularly involved in a wide variety of activities outside of the University, including social, cultural, artistic and community events. He has organised academic and public conferences, seminars, workshops and meetings, and regularly contributes in radio, television and newspaper media. `Okusitino has also composed poetry and music for public events, and has been awarded numerous Pacific Arts and Creative New Zealand awards.

PISINISI MO E KALATUA           BUSINESS AND CULTURE

Fatu `e `Okusitino Mahina             Composed and translated by








`Okusitino Mahina
1. Kuo movete 'i he kolope            1. Diffused throughout the globe

'A e ngaahi tui 'o 'Iulope                Are the many beliefs of Europe

Afuhia ai e 'Otu Felenite                Sprinkling over the Friendly Isles

'O fele he me'a fai vevele                Scattering yet uncompromising

Hake'uta me'a fakatauele               Overflowing yet tempting

2. Ko 'ena ha tuinga sisitemi          2. There is a string of systems

He 'ikonômika fio politiki                Of economics mixed with politics

Kominusi ê mo e 'olikaki                 Of communism with oligarchy

Fasisi ha pule fakamâlohi              Of facism as a rule of tyranny

Kepitalisi mo e temokalati              Of capitalism with democracy

3. Ko e pisinisi mo e kalatua           3. Business and culture

He tâkanga ka kuo fesitu'a             They co-exist yet oppose

'Itiolosia 'ena ia e taautaha            One, the ideology of individualism

Ka e teoli ê 'o e lûkufua                   The other, a theory of collectivism

Toki vete 'e he tâ mo e vâ                Resolved only by time and space

Tau:                                                Chorus:

Ka ko e hâ nai ha'au lau?                But, what is your say?

Fai pê a ha'o fakamaau                    Make your judgement

'E ma'u pê 'i he feilaulau                 Acquired only through sacrifice

Ka kumi ê potupotutatau                 Should you seek harmony

Tala atu ha fonua malu                   It is in the land of peace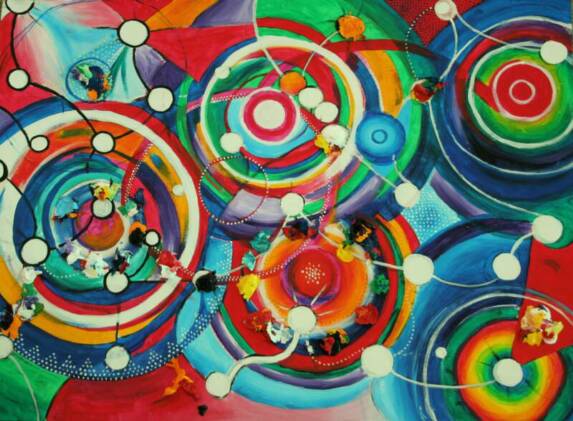 Featured Artist Fiona Holding