Penny Howard

first published issue 32

The fecund people - Andy Leleisi'uao 2014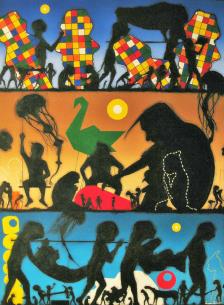 The moon has been eaten

I swim through black sea

silt lined lungs heave

seaweed fingers drag

no silvery path for navigation.

The moon has been eaten.

Marakihau stretches out his long tongue

I run through black forest

hollow tree, charcoal ache

Ongaonga; numb me nettle

Kuri unsated by her howl.

The moon has been eaten.

Turehu play their flutes through the mist

I paddle hard upstream

fighting current & memory

waka wooden groan, begging respite

no white pebble for thirst or guiding light.

The moon has been eaten

On the river bank the Tohunga casts your glistening Atahu, whakaora aroha

Penny Howard  is of Maori (Te Mahurehure) Irish and Scottish desecnt.

Penny is a full time artist who is represented by Whitespace Contemporary art.  Her latest solo Show Four Steps to standing on a Horse was a collaboration between herself and her partner, poet Doug Poole. The poetry here was written by her specifically for that show.

Penny's artworks are held in various NZ collections including  The Wallace Arts Trust, Auckland City Council, Auckland Events Centre, Auckland University and ASB Community Trust. Penny has been a finalist in the the Wallace Trust Art Award, the Adam Portraiture Award and the Walker and Hall Art Award.

Penny's poetry has been published in Sidestream, Mana Magazine and in previous issues of Blackmailpress.