Rebekah Burgess

New Zealand

Tui Taonga 1-5 Penny Howard

Previously been published in Blackmail Press issues 11, 28 and 32.

Performed spoken word at Wellington's BlueNote and Ballroom Cafe.

Had a poem published in Manawatu Standard this year.

Set up a poetry blog, but that is currently private and under review (an upcoming chapbook may suffice. Children of the '80s are suspicious of the cloud).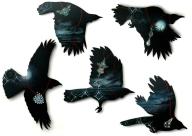 For Andy

1

The moment of falling was indeed falling

and if you were caught

you'd think that would be it, solved.

Not as simple as that for a broken

up human with shatters and shards

of heart that got crunched into concrete.

Pick the pieces up. Don't be scared if they cut

our hands. Blood is a glue of life. A metaphor.

A comparison. A CONNECTOR.

Pain is necessary to regenerate.

2

After all I asked for it.

I didn't want a boring,

comfortable partner.

I wanted a challenge.

I wanted a knife.

I wanted to be cut open.

I wanted to feel.

I wanted to heal.

I wanted to live.

3

SHINY FAMILY.

Absurdity of children in a train.

And I think I am in love

with you already.

But you challenge me,

but I wouldn't want a whipping

boy,

how about some contradictions

human two-faced minds

that change again for a while.

The Taupo air. The birds

the fresh no drama

the drama

still there

a chatter

but not as loud

surely knowing that

you are you

is enough for me

without worrying

about societal

prejudices

of madness.