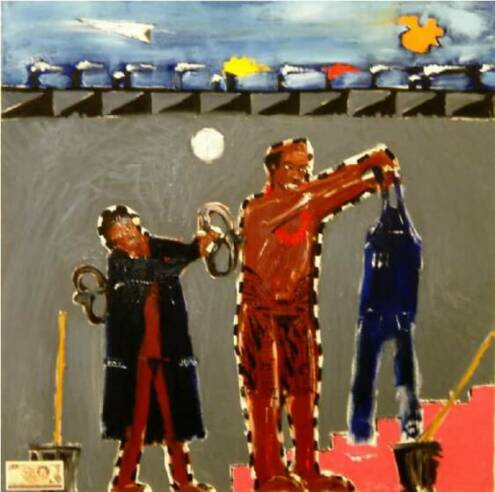 Enigmatic blue on a weekly basis - Andy Leleisi'uao

Rowan Donovan ( b. 1952 ) now resides permanently in Queensland, Australia.

He began writing at age fourteen keeping a diary. Forty two years later he is still

writing up his diary. He started performing his poetry at various venues around

Brisbane in 2001. In 2002 he was a founding member of SpeedPoets, a performance group with "an ongoing love affair between words, music and an everything under

two minutes philosophy."

In 2004 Rowan became a Queensland Poetry Festival committee member, a position he still holds today.

In August 2005 Rowan was one of three judges for the statewide children's poetry

competition, "Poetry on the Move."

He has had poems published in zines, journals and anthologies including SOOB New Writing 2004, Small Packages #8 and his poem, Elgar's Concerto was published in Five Bells (Vol.11 no 4).

In February 2007 he self published his first volume of twenty poems entitled "The Lateness of Goodnight – Poems of a Spoken Word Artiste"  which can be purchased by emailing Rowan at rdono22@eq.edu.au

By day Rowan is employed by Education Queensland as a specialist primary school teacher of Japanese.

ELGAR'S CONCERTO

Why do I miss you

All these tight strung months

Of unplayed concertos

And sad sung symphonies

Lying at the bottom of

Forgotten drawers

Like

Packed away

In cardboard boxes

Turned in on themselves

And stacked on shelves

Left in the dark

Time and distance

A Berlin wall

Where not even refugees

Are taken prisoner

I feed on a diet

Of malnourished hope

And a postcard

Scribbled and sent

On the whim of a moment

That I can hold

Close to me

To hear the words

You wrote

And feel your heart beat

From half a million miles away

While I listen to Elgar's concerto

Played on cello

By Jacqueline du Pre

CRASH   and   BURN

Crash and burn

Wasn't even an option

When our wings fell off

Seared through to the bone

At the point of contention

You and me

Angels without wings

Lovers without reason

Free falling with grace

From heaven

Having flown too close

To the sum

Of all the angles

That kept us

In perfect alignment

Redefined the square

As a place

A space

Without walls

A garden in need of Eden

And in an act

Of self induced redemption

I kiss away your

Salt cried tears

With lips that belie my age

And promise you

Promise you

A softer landing

KITES

I have flown kites

On very long strings

Over oceans of blue

To far away lands

And all the while

Held onto things

That leave me

Like a snake in the grass

Smelling the air

With my tongue

Jobs half done

My praises

Never sung

Caught somewhere between

Myth and logic

I follow the string

At times

All tied up in knots

I've struggled to free myself

Least I become

Tongue-tied

And ask gods

To prove

Their existence

LOST for WORDS

Who was it said

Everything that belongs to the past

Seems to have fallen

Into the sea

Beware these stolen ideas of mine

In this mad month of March

While others choose

To bury their past

I sharpen mine

Like a barber's clever wit

I'm not in the mood

For making love

I'm hell bent

On counting the collateral

From the damage I've caused

The havoc I've wrecked

There's a storm

Of dustbowl proportions

Building in the back of my head

And I've ripped out the last page

From the book

I was reading

Devoured the printed word

There's more

Left unsaid

Between the spaces

Of lines unread

Than a Zen monk would know

What to do with

I know I can't compete

With bird songs from Paradise

Can't complete the last act

Of a desperate man

Can't find the words I'm looking for

I'm on my hands and knees

And I can't find the words

I'm looking for