Richard James Allen

Australia

Tui Taonga 1-5 Penny Howard

Australian born Richard James Allen has published nine books as a poet,

fiction, performance writer and editor, most recently The Kamikaze Mind

(Brandl & Schlesinger). His writing has appeared widely in magazines,

journals, anthologies and online. A multi-award-winning poet, performer,

choreographer, film and new media maker, and scholar.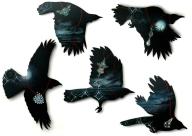 31 Years After The Divorce
And so the generations begin again

And you find your place as a summer grandparent

The wave of a smile finally breaking across your face

As the laughter of children echoes up the evening beach


Horatio's Lament
He told me to wait for him,

but he has been gone

these many years.

And I am still here, waiting, mid-










    sentence,
halfway through        





so much anger and love.
Finally I cry out across the train tracks,



     "Have I got your ticket,


      or have you got mine?'
        Hamlet's Reply

I know what it's like to be alone

    in the middle of the night.

        To think that this is it,

       if not now then soon,

      if not soon then one day. 

Alone, in the middle of the night. 


Alone, facing the night. 
Alone, with nothing but the night. 

  Alone.  And soon, just the night.