Tui Taonga 1-5 Penny Howard

Born in Dunedin and grew up in East Taieri. Learnt Piano and Trumpet at 10 and slowly moved into guitar. Formed my first band, Electric Blood, in 77. Joined The Clean in 1980 and quickly got my chops on Bass. I think there has been enough written by others about this period, suffice it to say it was a great time and feel very proud of what we did. Formed The Bats at the end of 82.

I released my first solo album 'The Creeping Unknown' in 2001, and 'Ends Run Together' 2010.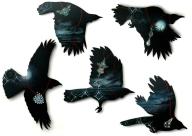 The Shed

The watery dew of early

winter lies upon the ground

In a little shed so cold

there are happy sounds

The hours too fast they fly by &

soon the mornings here

One less inside the shed &

both they shed a tear

Waipuna Bay

Waipuna Bay on such a clear day

The sea almost see through, light

dances on the surface.

Before you know it you're in Te Ngaru

Little cribs on the left, but no sun for them,

the winter light is low.

Have This Day

By the time it starts to rain

I'll be far, so far away &

if this time we're pulled apart

again we'd have this day.