Sisilia Eteuati

Aotearoa / New Zealand

Denial

They say diabetes is a silent killer

a thief in the night

that creeps up to you like a moetolo

embracing you against your will 

but I saw him coming

in the WTO siusiu pipi and mamoe

and 5 cans of coke I had

before lunch

I saw him coming

but in my Samoan pride

I scoffed

laughed like it was a fale aitu

and said

aga ou te le fefe i le oti.

They say diabetes is a silent killer

so we don't say much about him

as we shovel suka into our koko alaisa

and sneak off to shove a needle in our stomach

and when he strikes

and takes my eyes

                     my teeth

                              my legs

I will say

the Lord works in mysterious ways

and be praised

for my faith.

Postnote:

I wrote this poem after being inspired by Sia Figel's bravery in speaking out about her very personal struggle with diabetes. It showed me how we all have to speak out because our Pacific health statistics are a tragedy. It also showed me that I have to take action to not be one of them.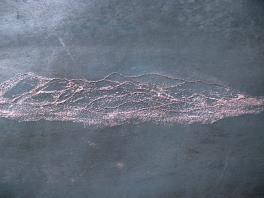 detail of Diasporic Waters - Joy Enomoto - 2014

Baninnur: A Basket of Food

Biography

Sisilia Eteuati is a Samoan writer and a poet who was lost for over ten years as a lawyer but is in the process of finding her way back to writing from the wilderness. She is currently a master's student in Creative Writing at the University of Auckland and was awarded the Sir James Wallace Master's of Creative Writing Scholarship for the strength of her writing portfolio.  Before her ten-year hiatus, her work was published in the
Samoa Observer, Moana
(published by the University of the South Pacific); in 'The Sun Whose Rays (published by Massey University); and in Learning Media's
Peaches: An Anthology of Secondary School Writing
and
With Love, Tira: A Journal of Secondary Students' Writing
. She has recently had poems published in the
Samoa Observer
and also self-publishes on her blog:
www.sydneyfob.blogspot.com