Kelle Grace Gaddis

United States of America

Mere & Child - Penny Howard

Kelle Grace Gaddis received her MFA in Creative Writing and Poetics from the University of Washington in Seattle, Washington, where she lives and works as a writer, editor and activist. She is one of the winners of Seattle's Public Arts Project, "Poetry On The Buses 2014" and has also been published in Clamor Literary Journal in 2011, 2012 and 2013.

Her first book Polishing A Gem On The Surface Of The Sea was published as a thesis by the University of Washington in June of 2014. This book has subsequently been split into two books, a collection of short stories, that retains the original title, and a chapbook of poetry entitled, Screaming Daisies.

Her self-published chapbooks One Little Indian and American Discard were printed as limited editions that have subsequently sold out. The poem "A Day At The Beach With The NSA" is from American Discard.

Ms. Gaddis is also the founder of Brightly Press, a small press that will publish its first anthology of poetry in February of 2015.

She has spent significant time roaming about five of the seven continents and is particularly fond of Rotorua and Auckland, New Zealand. She looks forward to making it to the South Island on her next visit.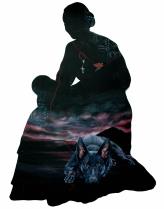 A Day at the Beach with the NSA

A breeze blew on Liberty's legs, ruffling her panties.

She felt exposed. She shook her thoughts away.

But soon decided it was all in her head, which was planted deeply in the sand.

Relieved she dropped to her knees and let her worries disappear.

She enjoyed the exfoliation, drifted to sleep, confident, carefree.

Liberty's sleep was disturbed when someone entered her vagina.

She thought, "If I haven't done anything wrong I don't have anything to worry about."                                                  

Yet, upturned as she was, she suspected that more than one was banging away beyond her view

but again dismissed her concern. She assured herself, "The authorities know what they are doing,"

besides politics is unbearably dull. What could she do?

When Liberty emerged from the beach, her backside sore, she felt a sense of loss.

She had her sunglasses, towel and her Coppertone tanning lotion but something wasn't right.

There were looks that she didn't know she was getting but only the crabs made her

squirm. She didn't complain, "Inaction" she insisted, "Is surely the best action."