Sarah Paterson

New Zealand

spirits of the forest  Vanya Taule'alo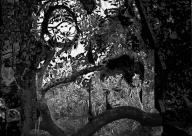 Sarah Paterson is a Dunedinte, currently working towards an MA at the University of Otago on the writing of Scottish poet Kathleen Jamie. When she's not studying, reading or writing poetry she works at the Otago Museum and is the National Vice President for Relations with UN Youth.

O-Week VI

Each year

students return like bird migrants,

stilts and waders,

godwits, flying.

In the same week

Dunedin's dandelions

agree that now is the time

to spread through the city

and regenerate.

Thousands and thousands

of brightly coloured students

laugh and sway through the a sunlit city.

Above them,

thousands and thousands

of dandelion seeds, tiny white arms outstretched and open

laugh and sway in the warm breeze.

he loves me, he loves me not…

Chased and caught,

wished upon, released,

the seeds follow a shimmering concrete river,

perhaps take root.