Tony Robles

U.S.A / Philippines /Ireland

crossed cultures - special issue

My father's hands

my father had

never been to

the Philippines

yet he ate

with his

hands

those hands smelled

like vinegar, soy

sauce, patis, cigarettes

piss

(from his janitorial job)

eating with his

hands was

natural to him

he'd sometimes

toss the knife and

fork aside in

frustration

they weren't

quite right

and sometimes

he'd wear

a sour face

eating dirt

dished out from

those American

streets

his hands

stained with brown

dirt and black dirt

he still eats

with them

still

washes

them

but the black

and brown

dirt

remain

An Alibata Lesson

Alibata tattoos

On arms legs

Armpits

Eyelids

Wiggly symbols

And lines that

Resemble waves

What wave

Are you?

Grandpa used to say

That the way to

Tell if spaghetti is

Properly cooked

Is to take

A single noodle and

Toss it on the

Ceiling

If it sticks,

It's done

Grandpa is

Long gone

I looked up

At the ceiling

One day

A noodle

Was stuck

Up there

Probably there

For 50

Years

It looked like

An Alibata

Tattoo

A wiggly

Line which

Means

"I'm still

here with

you"

no

translation

needed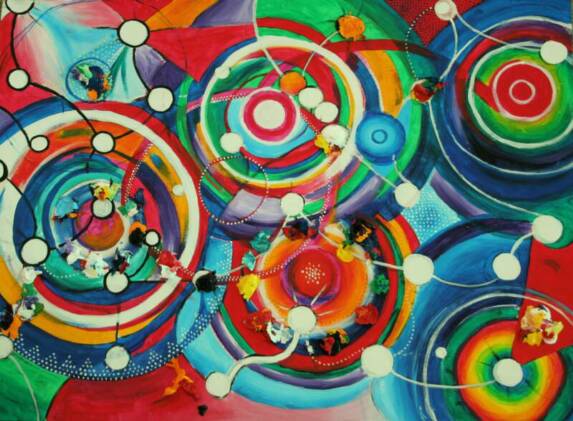 Featured Artist Fiona Holding

Tony Robles was born in San Francisco, CA.  His cultural mix is Filipino/African-American and Irish.  Family get togethers resemble a United Nations gathering.  Writing influenced by his father and uncles--all street guys from the city with the street talk and the street walk.  His writing school was "The Filipino Building Maintenance Company"--a small janitorial company run by his father.  Author of 2 kids books about his son-- "Lakas and the Manilatown Fish" and "Lakas and the Makibaka Hotel". His short story, "Son of a Janitor" will appear in "Growing up Filipino 2", pubished by PALH Books.  Writing influences: Al Robles and Oscar Penaranda.  More info: www.tony-robles.com.