Lynette Leong

first published issue 21

The fecund people - Andy Leleisi'uao 2014

Lynette Leong was born in Auckland and is of Hong Kong and Malaysian Chinese descent. She has previously appeared in blackmail press and Spectrum 1: An Anthology of Short Stories by New Graduate Writers.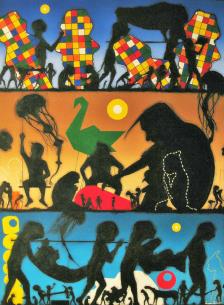 In the new land

we stray souls go wandering

looking for a likely friend

amidst pale trees that taught us to speak

that teach us still to speak

in words our parents cannot understand

we wander further still

we cannot see the sky anymore

not the stars for navigation

not the moon for time

not the clouds for drink

there is no night

only the constant gloam

of the heart

of the pale forest

and the cries of birds from stories

that are not our own.

but now and then

there is a glimpse of a silver something

brighter than the white arms that hold the sky

and suddenly

on our lips

almost forgotten

a trace of lotus nut

sweet

of duck yolk

of fat

grainy

and thick

on the tongue.